W
eekly Activities at Hookwood Memorial Hall
Hookwood Memorial Halll is a centre of activity for the Hookwood community and hosts a number of local activities that take place on a regular basis or across the year. We also welcome hirers from Crawley, Horley Reigate, Redhill and the surrounding areas
COFFEE MORNING FOR MACMILLAN CANCER SUPPORT
"We are pleased to announce that Hookwood Memorial Hall raised £222 towards Macmillan cancer support".
"Thank you to everyone who supported us and came along for a cuppa and slice of cake".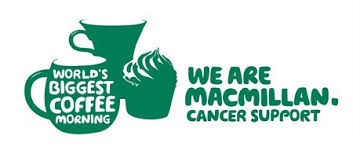 MONDAY
09.30-13.30 Hartbeeps… classes for babies and toddlers, featuring music and puppets, laughter and fun. www.Hartbeeps.com
19.00-21.00 Boxercise with Julie. A wonderful fitness session which combines boxing and exercise which is fun and stress busting. Contact 07736474193
TUESDAY
09.30-11.00 Zumba with Sarah Cubitt. A total workout, combining all elements of fitness, cardio, muscle conditioning, balance and flexibility.
Great fun. Contact 0782724712
18.45-19.30 Men beginners Pilates session with Lisa
19.45-20.45 Beginners/ Improvers general mixed Pilates class with Lisa
For further information please contact Lisa 07974424413
WEDNESDAY
Tails and Trails: 18.30-19.30. Dog scent detection classes. Taster sessions for scent training, any dog can do this, no matter breed or age. a great way to get a dog to use their brain without too much physical strain.
Please contact Karina for further information and to book 07704600540 or have a look on Facebook by searching "tails and trails smallfield."
THURSDAY
09.30-10.30 Zumba with Sarah Cubitt. A total workout, combining all elements of fitness, cardio, muscle conditioning, balance and flexibility. Great fun. Contact 0782724712
11.30-12.30 Paracise... Paracise is a low impact dance based class, suitable for those who find regular fitness classes a little too demanding. No Floor work involved. Ideal for anyone who might be dealing with ongoing health issues, such as arthritis, fibromyalgia or bad back or knees.
Every Thursday at 11.30. Please contact Fabiana for more information 07969250792 or email www.fab-active.​co.uk
Adult Ballet Group 19.00-21.00 - A friendly local group who meet every Thursday evening.
For further information please contact Rachel the Booking Secretary for further details 07935300631
FRIDAY
09.30-10.30 Kicks Dance... Do you have a little one aged 18 months- 4 years? Kicks dance is the perfect activity for your little one to join. They are sure to burn off some energy whilst having a lovely enjoyable time too.
09.30-10.00​ TOTS ( 18 months - 3 years)
10.00-10.​30 PRE SCHOOL ( 3-4 Years)
For more information on the classes please contact Rianna on 07954785064 or email Rianna@kicksdan​ce.co.uk
SATURDAY
08.30 Weight Watchers- please visit the website for more information www.weightwatchers.com
SUNDAY
Horley Christadelphians group. From 10.00am.. visit website for more information https://www.worshipathookwood.org.uk
We have some availability in our fantastic hall or conference room for regular hirers.
Please email bookingsecretary@hookwoodmemorialhall.co.uk for more information
Regular hire also include use of tables and chairs, kitchen and car park. Set up and pack down time must be included in your hire time. We also require an additional minimum £50 daytime/£100 evening security deposit which is refunded back to you after your successful hire, and we start hire sessions on the hour.
Our facilities include new Air Conditioning, baby change, free WIFI and disabled access throughout.
*All bookings are subject to approval and acceptance of our terms and conditions.
Registered Charity No 271303


Payment by credit card now accepted